I have been asked by a lot of new investors that how to find companies in which they should invest. The same question was in mind when I first started to invest in share market. But, as I spent some time investing in this market, I come to know a lot of sources which are useful to choose a company in which investment can be made.
So, in this article I am gonna deal with the question:
Where do we find stocks to invest in?
Below is the list of sources which are useful for finding a new company of investor's interest.
BSE's (Bombay stock exchange) website:
I started finding a new company from the database of BSE's website.
But there are a lot of companies added in this list so which company should one choose?
BSE lists both loser as well as the gainer for the day. The best answer to our question can be found here.
I frequently check the list of loser companies (companies whose stock prices are decreasing).
It gives me a hint for choosing and analysing a company which might be worth investing in.
Often I also check for companies which are top gainer for the day.
Then I thoroughly analyse same company to find out the reason. Here you must aware that based only on increasing price for the day, you cannot select a company.
Market news:
Market news is the second source which I trust on. I frequently check for such a company which is in news for some reason. The reason might be unfavourable condition (prevent me to invest in such a company) or good news for the company (may be considered for investing).
At the time of writing this article I found ITC stock price plunged 8.27% in a single day. It was because of some announcement in budget. So, it gave me a clear reason not to invest in ITC stock for some coming days.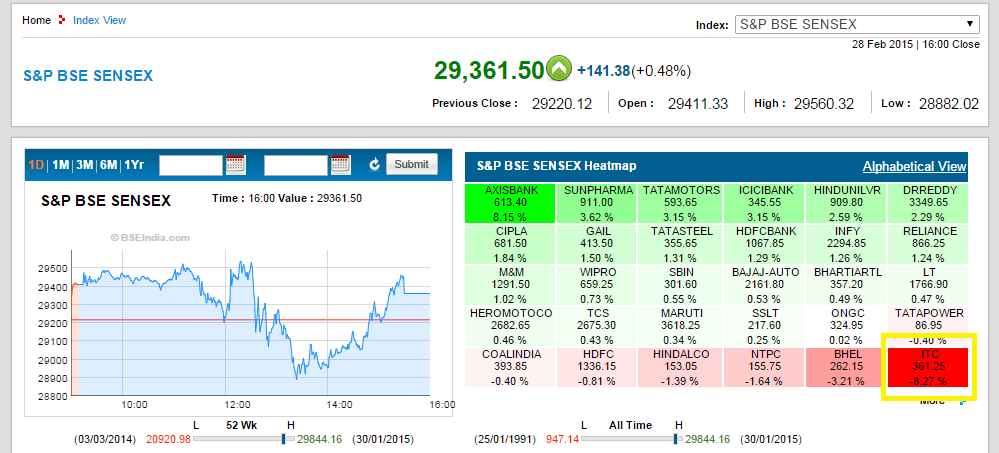 Expert views:
Expert of share market also spread their thoughts time to time. All you need to do is to find out such views. These views are useful as they are based on some logical calculations.
Broker's advice:
You may consider the advice of your broker as you are paying him for the same. But you should not trust these brokers every time and should make an analysis by yourself about the company they are telling you to invest in.
Consultant:
Now a day many consulting firms are also engaged in doing the same job for you for a fee. These consulting firms update you time to time and suggest you the list of companies which they think are going to increase in their values.
Final words:
All these sources are just a way to find out a company which you may consider for investing. But it won't be wise for you to invest in these companies without doing a thorough analysis based on some basic criteria.
If you want to start investing in share market then you must be aware of analysing a company based on some basic techniques. It's your money which is going to be invest so be careful and confident before investing it in a company.