If you are thinking of investing in share market to earn some profit, the first thing you should remember is that making a profit in share market is not that much easy as it seems. You can easily find people around you, who have done this mistake. But if you have knowledge of market and knows some basics of investing, then it won't appear a difficult task too.
Some other basics of investing in share market:
Stock market does not take any guarantee of profit. You have to earn by your own (or through a broker but that is another story of another time).
It is not a piece of cake to understand and predict the share market for an average investor.
Share market seems lucrative but not for everyone.
Process of investing in share market:
Experts of share market define a common process that can be useful in hedging both systematic and unsystematic types of risk. You can consider the process and can adopt if you think it can be beneficial for you. Although most of the people follow this process by modifying it according to their risk bearing capacity and preferences: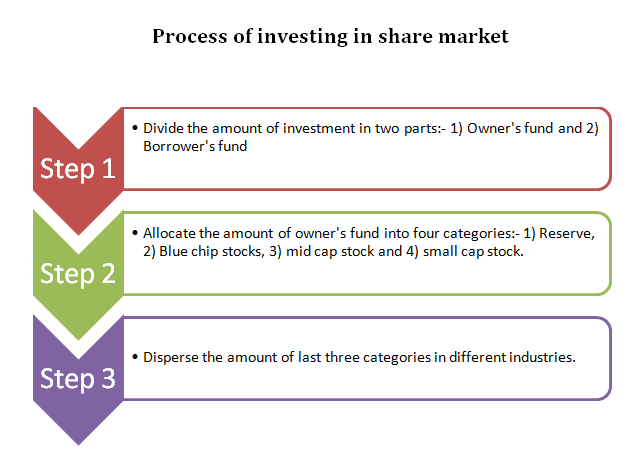 Step 1:
The first ever task one should do is to decide how much he/she has to invest in owner's fund and borrower's fund.
There are several methods to decide that:
Method 1: Deduct your age from 100 and the result is the %age you should invest in owner's capital.
Method 2: Divide the amount according to given categories:
Invest 75% of your total amount in owner's fund if your age is 20 – 40.
Invest 50% of your earnings in owner's fund if your age is 40 – 55.
Invest maximum amount of your hard earned income in borrower's fund if your age is above 55.
Note: The above methods are not recognized methods, so opt these methods according to your preferences.
Step 2:
After deciding the amount of money one has to invest in owner's capital and borrower's fund, the next step is to divide the amount (the amount that one has to invest in owner's fund) in four categories, as given below:
Reserve: Keep 10% of your amount as reserve, so that you can take the benefit of any future opportunity.
Blue chip stock: Keep 40% of your money for the purpose of investing in blue chip stocks.
Mid cap stock: Keep 30% of the amount for mid cap stocks.
Small cap stock: Keep 20% of owner's fund to invest in small cap stocks.
Important tips:
You can adjust the %age according to your preferences. These are general categories which are suggested by experts.
Step 3:
The next step one has to follow is to distribute the amount of each category in different industry's stock. Diversification is very important for the purpose of hedging risk. It will work when one industry passes through a rough patch and helps in keeping your portfolio safer.